People in Switzerland are the most fortunate in the world when it comes to medical care. Meanwhile, most of the world's population – around 5 billion people – have no access to medical or surgical care.
Hirslanden wants to help improve this and is supporting the Mercy Ships charity as part of a partnership with medical specialists. Since August 2018, Hirslanden employees such as nurses, specialised nurses, physiotherapists, doctors and administrative staff have been assisting the crew of the Africa Mercy – the largest hospital ship in the world. 
When people are unable to get themselves to the hospital, a hospital has to come to them. This was the insight of Don and Deyon Stephens when they founded Mercy Ships in Lausanne in 1978. Their idea was to use hospital ships to bring medical and humanitarian aid to the coast and even onward into inland areas. This was the beginning of the Mercy Ships success story.
Since the organisation was founded, its ships have been deployed to more than 70 countries along the coasts of Africa, where they provide medical and humanitarian aid valued at over one billion Swiss francs. These efforts have improved the lives of more than 2.5 million children and adults.
Mercy Ships spends 10 months at each location. Before the hospital ship arrives, the aid organisation notifies patients in need through radio, posters and social media campaigns as well as with the help of local authorities and institutions. Potential patients then have the opportunity to make appointments with medical personnel who examine and treat their diseases and ailments.
Thousands of individuals hope to have a free operation on the ship. While the ship is in port, around 400 voluntary staff provide medical care for general, plastic, orthopaedic, facial and reconstructive surgery in addition to ophthalmic, dental and gynaecological care.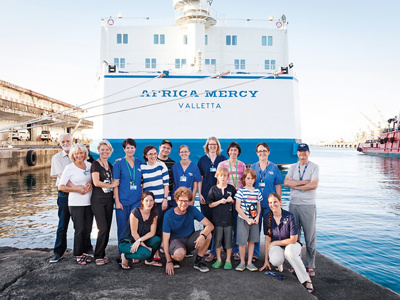 For over three decades, Mercy Ships has been helping to improve the quality of life for people along the coasts of Africa. The partnership will allow the aid organisation to benefit from our medical expertise and from raising its profile in Switzerland.
In addition to volunteer medical personnel from over 40 nations, there will be sailors, administrative staff, teachers, cooks, engineers and agricultural experts on board the Mercy Ships vessel. These people work on renovating medical facilities, providing training, and helping to develop agriculture that will bring lasting improvements to the countries they are visiting.

From August 2018, Hirslanden staff aboard the Africa Mercy will be in Guinea helping to provide the local population with free, top-quality health care. While this is an unpaid mission, Hirslanden will also be supporting the staff financially during its stay aboard the hospital ship.